Stoney Creek Hotel & Conference Center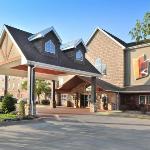 Stoney Creek Hotel & Conference Center
Dog-Friendly Hotels
2601 S Providence Road
Columbia,
Missouri 65203
573-442-6400


Get Map or Directions

Named a Â?Best Hotel of Mid-Missouri,Â? and a "Top Event Location" by the Columbia Business Times, the Stoney Creek is located halfway between Saint Louis and Kansas City. Noteworthy features include spacious rooms, complimentary wifi, breakfast, and airport shuttle, an indoor/outdoor pool, a fitness center, large spaces to gather, and the popular Hearth Bar, featuring local beers, wines, and spirits. Two dogs are welcome per guest room. Dogs must be under 50 pounds and there is a $25 per pet per night fee. Dogs must be kept on a leash and may not be left unattended.
---
---