Moxy Chattanooga Downtown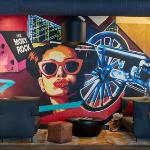 Moxy Chattanooga Downtown
Dog-Friendly Hotels
1220 King Street
Chattanooga,
Tennessee 37403

423-664-1180

Get Map or Directions

The Moxy Chattanooga is a stylishly chic hotel made for the young and young at heart. Guests are greeted at the bar, where they will receive their room key and a delicious signature cocktail on the house! Live music, night clubs, Southside restaurants, and laugh out loud comedy is just a taste of what you'll experience while staying in Chattanooga's most up and coming neighborhood. Get some work done, or catch up on the latest gossip and trends with Chattanooga's furiously fast complimentary WiFi. The hotel's ?it's 5 o?clock somewhere? attitude allows you to begin your Chattanooga nightlife experience anytime. Whether you need a pick-me-up or a jump-start to your evening, the Chattanooga bar features espressos, cocktails, Naans, and local brews. Unwind, un-plug, and unzip.

Two dogs up to 50 pounds each are welcome per room. There is a $50 per room per stay pet fee.
---
---