Best Western PLUS Ruby's Inn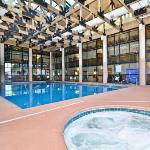 Best Western PLUS Ruby's Inn
Dog-Friendly Hotels
26 South Main Street
Bryce Canyon,
Utah 84764
435-834-5341


Get Map or Directions

Located just one mile away from Bryce Canyon National Park, the Ruby's Inn offers comfortable, well-appointed rooms, complete with abundant amenities such as cable satellite television with movie channels, a microwave, a refrigerator, a desk, and free wireless Internet during your stay. Other on-site amenities include an indoor heated pool, seasonal outdoor pool, hot tub, basketball court, mountain bike rentals, and 24-hour business services. Pets are allowed based on the availability of pet-friendly rooms. Up to 2 dogs per room with a 100-pound weight limit on any one animal. The pet rate is $30 per day with a $150 per week maximum.
---
---