Glengorm Castle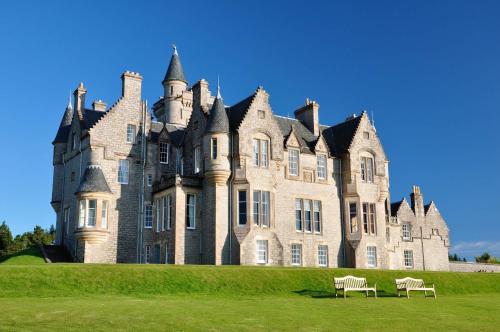 Glengorm Castle
Tobermory, Isle of Mull
Tobermory,
United Kingdom PA75 6QE
441688302321
Located in Glengorm Castle, accommodations include B&B-like stays as well as serviced apartments. The serviced apartments are located either inside the castle itself or in the former farm stables. The accommodations include a full kitchen, sitting rooms, satellite TV, internet, washing machine and dryer, and multiple bedrooms. You can also choose to add breakfast in the castle dining room for an additional rate per person. The bed & breakfast accommodations feature individual castle bedrooms with private baths. Views range depending on which room you choose, and all rooms include an alarm clock, bath and shower, coffee machine, flat-screen TV, hairdryer, iPod dock, coffee making facilities, radio, and towels, as well as access to cooked breakfast daily with fresh eggs and locally made sausages, as well as complimentary whisky in the library.

Dogs are permitted in all properties except The Steadings Flat (located in the former stables.) Small dogs only in the castle. Other pets are not allowed. Dogs are not allowed on the furniture. You must keep your dog under control at all times and clean up after them.
---